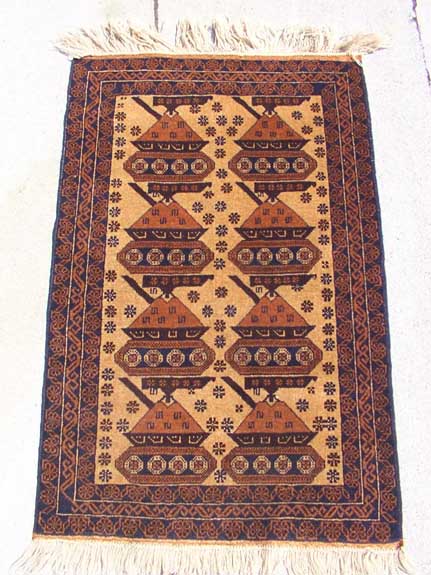 8 Tank War Rug #3
Exhibited at:

An excellent example of this style of rug. Knots are consistent sizes, pile is very even, and the wool is good quality.
The colors are rich and the design is very nice. I think the starburst motifs are more attractive than the 4 leaf clover patterns seen on similar rugs. Also the field is more sparely decorated, which is nice.
The details are good too. The warp wool is very good quality and the selvedge is very strong and the warps are fully covered by the goat hair overcast. The kilim end and finishing knots are well done too.
The overall drawing and depictions of the tanks are beautiful.
Wool: Very good.
Sheen: Good.
Handle: Floppy and solid
Selvedge: Braided goat hair overcast.
Fringe: One inch brown kilim and braided warps.
Pile: Wool
Warp: 3 black cotton weft
Weft: Natural wool
Warp Depression:Slightly Depressed