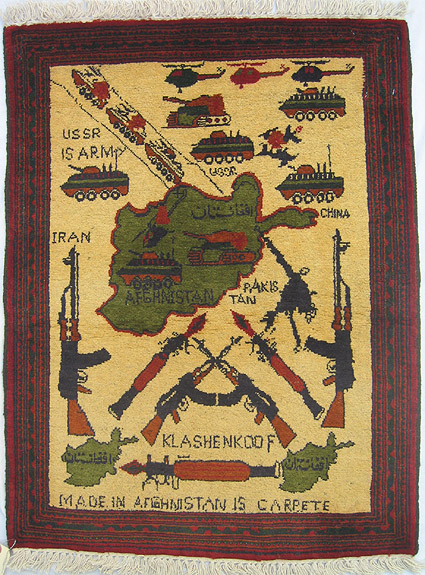 Crossed Rifle War Rug
Exhibited at:

This incredible new war rug is in perfect condition. This war rug was made in the year 2000 to commemorate Afghanistan's liberation from the Soviets and to celebrate the Soviets exodus. Warrug.com selects only the very best to offer to our clients, and it is obvious what sets this war rug apart from the rest.
On the top of this war rug is a line of helicopters. Just below them there is a tank on the right and to the left of that tank is a remarkable depiction of a tank in three point perspective. There is another tank like this in the main map of Afghanistan. This is extremely rare and never before seen in these types of Soviet exodus war rugs. It truly illustrates the amazing talent of this artist. There is a battle scene depicted above the map involving fighter planes, as well as a helicopter being shot down within the borders of the map. There is text along the bottom in English saying that this carpet was made in Afghanistan. The text within all of the maps is in Farsi and reads -Afghanistan-.
Wool: These map rugs use the best mill spun wool, it is soft, strong and lustrous
Sheen: Very good
Handle: Firm
Selvedge: Two cord brown wool
Fringe: Minimal kilim, Persian closure, short fringe
Pile: 6mm
Warp: white cotton
Weft: double gray
Warp Depression:Full warp depression