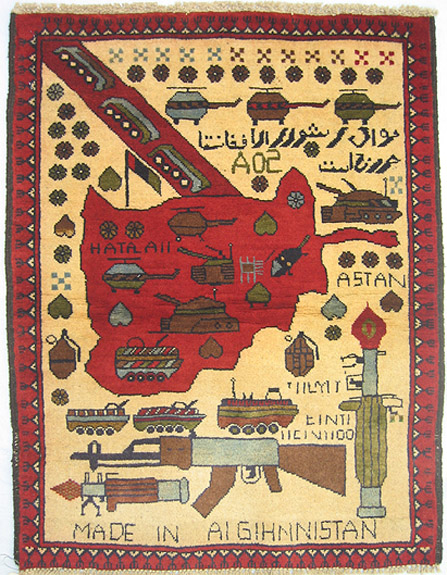 Beautiful Soviet Exodus Yellow Map Afghan War Rug
Exhibited at:

This war rug was made in the year 2000 and is in perfect condition. This war rug commemorates the Soviet exodus. The bright red used in the map of Afghanistan provides a sharp contrast to the military colors also used throughout this rug.
This is an excellent example of tribal folk art. This traditional war rug pattern was most likely used as a practice tool by the inexperienced artist. Often, it is boring for a weaver to have large areas of only one color, so they fill in the space with Xes, thereby breaking up the monotony. The artist clearly practiced writing text in English and making curves and points by including the oh-so-rare-in-a-war-rug heart symbol. Typically, poppies are used by traditional artists in Afghanistan, and this weaver used many, probably to refine her technique in weaving them. The helicopters are childishly stylized, although the attempt at three point perspective in the tanks clearly shows that this weaver had a very good mentor. As far as folk art, there are few examples available as cherished as this war rug.
Wool: soft, nice
Sheen: Good, well above average for most rugs
Handle: Firm
Selvedge: Three cord brown wool, without complete coverage n places.
Fringe: No kilim, overhand knots, short fringe
Pile: 5mm
Warp: White cotton
Weft: Double light green
Warp Depression:Full Warp Depression