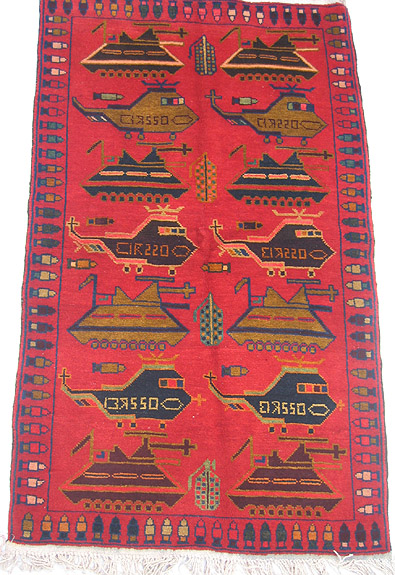 Two Rows of Tanks and Helicopters without Kalashnikovs Red Afghan War Rug
Exhibited at:

ID# 455
Date: 2002
-
Size 39 x 63 inches
(99 X160 cm)
Knots/Inch:
8 h X 6
Origin: Pakistan
Style:Red Rugs, a war rug classic.
Tribe: Turkman
This new war rug is in perfect condition. This is one of the very best designs we have seen in the Turkmen red war rugs. The composition and use of color is outstanding. We would be remiss to not point out the remarkable use of symmetry by the artist. The alignment of the weaponry is not only horizontal, but vertical as well. Just look at how the grenades are aligned down the center of the rug, and yet they are also used to crossword-like perfection in the tank-grenade- tank rows going across. The bullets are seen only in the helicopter rows, and even then the only time these are used to outline the bottom of the helicopter as well as the top is in the very center row. Even the bullet border has them all pointing inward. Very rarely do we see this type of symmetry, as these rugs usually are in a prayer rug format, with clear delineation of direction. Also, there is a unique and subtle use of the very traditional melding with the contemporary, even within war rug folk art. This rug was made in 2002, and there is the text of USSR on every helicopter, which is typical of soviet-era war rugs. However, a tradition of many of our US helicopter pilots is to have a face painted on the front of the helicopter to scare our enemies and support morale among our troops. There is a mouth woven onto each and every helicopter. A brilliant piece of art, to say the least.
Wool: This wool is above average for the type, it is softer and more lustrous.
Sheen: Good
Handle: Floppy
Selvedge: Two cord brown wool
Fringe: One inch kilim with blue coloration (slight bleeding), unusual closure, one inch fringe
Pile: 6 to 9mm (longer on right side)
Warp: white cotton
Weft: double, black and white
Warp Depression:45 degrees