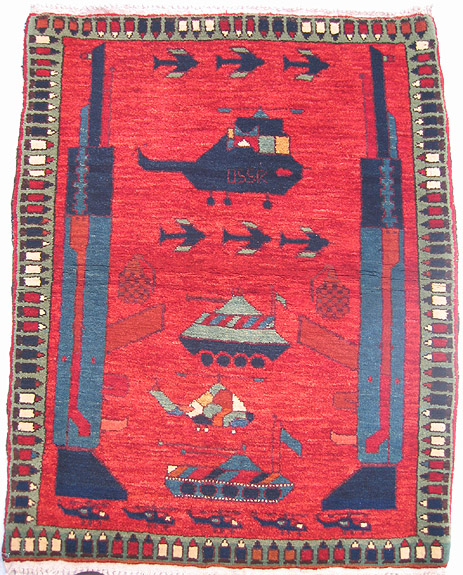 Full Army Vegetal Dye Red Afghan War Rug
Exhibited at:

This new war rug is in perfect condition. This war rug was woven in Peshawar, Pakistan by an Afghan refugee, so it is understandable how this female artist knows and depicts so clearly the inner workings of a Kalashnikov rifle. Peshawar is increasingly becoming Taliban-esque, and the refugees are being forced to relive the nightmare that once ruled Afghanistan. Because of this, Peshawar is becoming known as the place for religious fundamentalists to go and have their firearms altered. This war rug is very relevant and telling of the times in which the artist lives. Many of the refugees are now leaving the camps and returning to Afghanistan, where they are less likely to come across these fundamentalists.
Also of note, is the remarkable use of colors in this rug. Just look at the medium-sized helicopter located just below the centered tank. It is almost as if the artist was depicting the helicopter as being camouflaged. This is a striking addition to war rug folk art.
Wool: This is excellent soft wool.
Sheen: Good
Handle: Firm to Floppy
Selvedge: Two cords brown, not full, irregular
Fringe: Half inch kilim, minimum fringe, overhand knots
Pile: 8mm with 6mm in places
Warp: White cotton
Weft: Double grey
Warp Depression:irregular full to 30 degrees