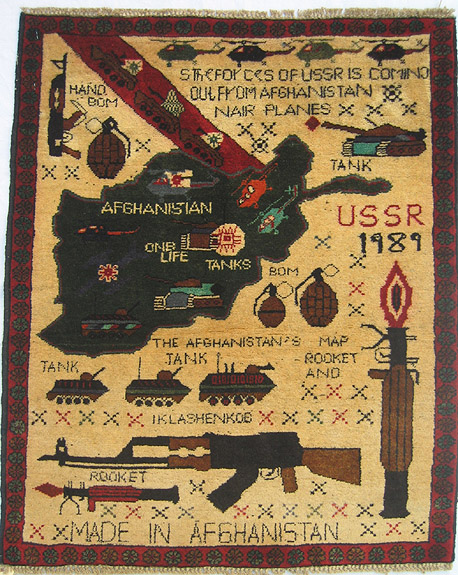 Four Helicopter on Top Row Soviet Exodus Yellow Map War Rug
Exhibited at:

ID# 452
Date: 2002
Price:$ 90
Size 25 x 30 inches
(63 X77 cm)
Knots/Inch:
12 h X 12
Origin: Afghanistan
Style: -Soviet Exodus
Tribe: Turkman
This new war rug is in perfect condition. This rug, though having the date of 1989, was made in 2002 and commemorates the year of the Soviet exodus. The writing is a beautiful addition to this war rug. The artist proudly recalls the feeling of the times and has written that the forces of USSR is coming out from Afghanistan. Also, she displays her wonderful understanding of the English language by naming various objects such as the Afghanistan map, tanks and rocket, and calls hand grenades hand bombs. For the artists homeland, she includes the blessing of long life among the depicted explosions within Afghanistan.
Wool: Like most rugs of this class the wool is soft and lustrous
Sheen: Very good
Handle: Firm
Selvedge: Two cord navy
Fringe: No kilim, overhand knots, short fringe
Pile: 6mm
Warp: white cotton
Weft: 1 black
Warp Depression:Full Warp Depression