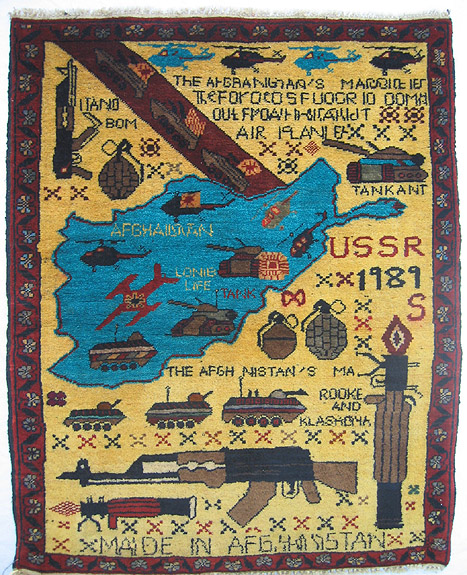 Cerulean Blue Map Soviet Exodus Yellow Map War Rug
Exhibited at:

ID# 426
Date: 2002
Price:$ 135
Size 25 x 32 inches
(63 X81 cm)
Knots/Inch:
11 h X 14
Origin: Afghanistan
Style: -Soviet Exodus
Tribe: Turkman
This new war rug, woven in 2002, is in excellent condition with some minor bleeding that is typical in all tribal war rugs. It is quite rare that this shade of blue is ever used in this type of rug commemorating the 1989 Soviet exodus. This blue provides a striking background to the imagery of tanks, planes, helicopters, and explosions. The two different grenades right next to each other is a very nice touch and it, unfortunately, speaks of a life where it is not uncommon that a woman can accurately draw different types of hand grenades.
Wool: This wool is good, soft
Sheen: The sheen on this rug is excellent, very lustrous and soft.
Handle: Firm
Selvedge: 1 cord black
Fringe: Minimal kilim, overhand knots
Pile: 6 to 9 mm (bottom right corner)
Warp: white cotton
Weft: Double black wool.
Warp Depression:Full warp depression