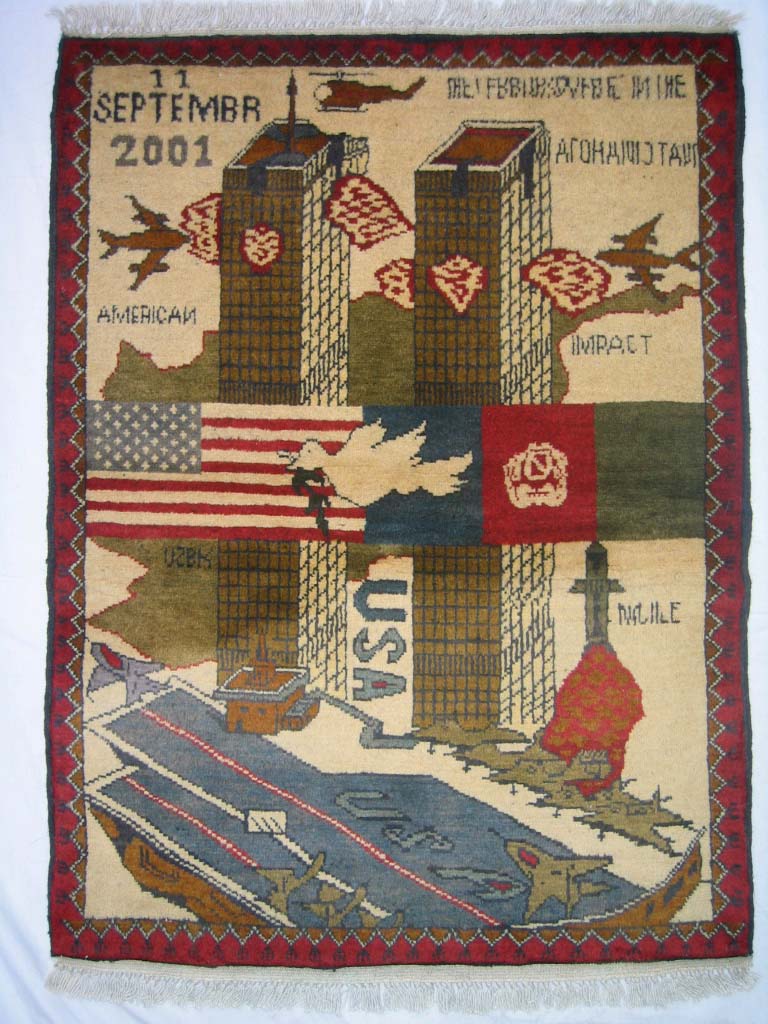 World Trade Center War Rug
Exhibited at:

ID# 381
Date: 2003
-:-
Size 23 x 31 inches
(59 X79 cm)
Knots/Inch:
12 h X 11
Origin: Afghanistan
Style: -World Trade Center Flag Banner War Rugs,
Other examples of this style
Tribe: Turkman
The condition of this new war rug is perfect. This is an incredible piece of folk art that accurately speaks of the times in which we live. The text along the top gives the date of the event and the reason for the resulting bombing of Afghanistan by the US reading,- The Terrors were in Afghanistan-. This is interesting, because shortly after the destruction in the US, our Special Forces in Psychological Operations began dropping leaflets in Afghanistan by the million. The leaflets explained, by using text and imagery of the burning towers, and a map of Afghanistan with missiles launching, the events that had and would unfold and the reasons behind this. They soon launched what is known as nation-building images of our two flags united, telling the people of Afghanistan that we were there for a specific reason and would help them, letting them know that our governments were united in this cause.
Wool: Somewhat sharp, but good.
Sheen: Good
Handle: Extremely firm
Selvedge: Three cord wool weft wrap overcast
Fringe: Short kilim, over hand knots, one inch fringe.
Pile: 7mm
Warp: White cotton
Weft: Black wool
Warp Depression:Full warp depression