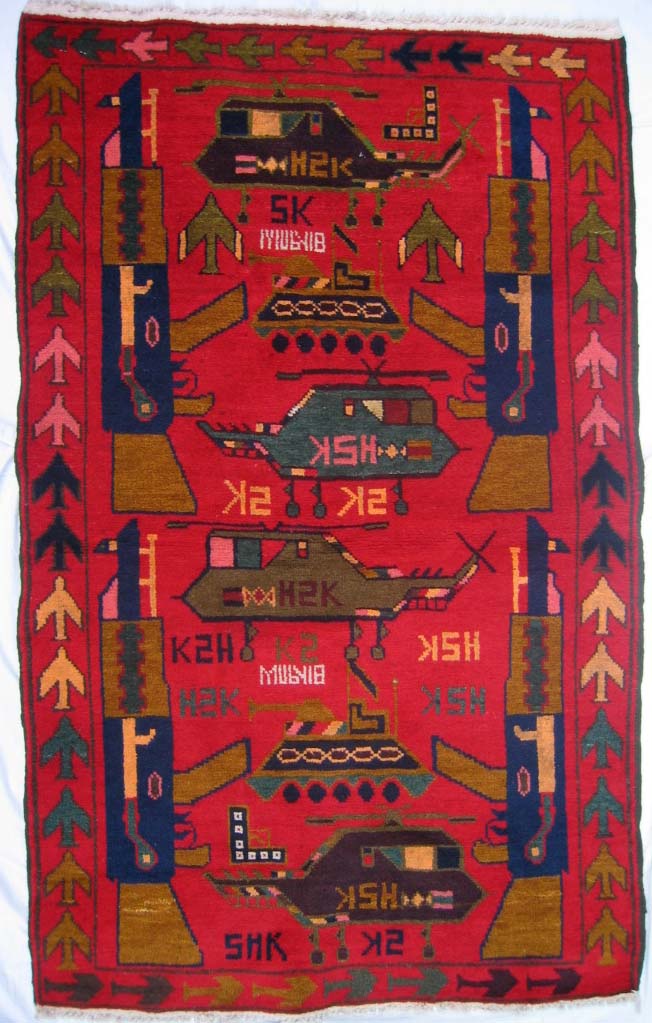 Red Rug with a lot of Text and Airplane Border
Exhibited at:

The condition of this war rug is new and perfect. This war rug is a classic example of this type of rug.
The field is nicely filled in with large helicopters with tail rotors intact and if you look closely, you will see the inclusion of two handguns, each located on either ends of this rug. All of the planes found point in one direction, and this rug could be used as a prayer rug as well, with the only two planes located in the main field found in the typical hand positions.
A wonderful use of a variety of colors compliment the interesting dichotomy of war and prayer. A great rug for the experienced collector and beginner alike, sure to be a point of interest for discussion in any home or office.
Wool: The wool on this war rug is good.
Sheen: The sheen of this war rug is also good.
Handle: Firm, resilient
Selvedge: Two cord raw umber colored wool
Fringe: Short kilim, overhand knots, no fringe.
Pile: 8mm, which lays flat
Warp: White cotton
Weft: Black Wool
Warp Depression:Sixty degree warp depression