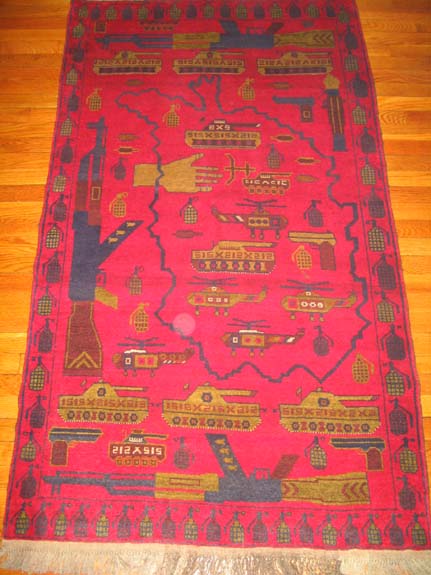 Red Ghazni 6
Exhibited at:

ID# 324
Date: 2002
Price:$ 0
Size 36 x 60 inches
(91 X152 cm)
Knots/Inch:
9 h X 9
Origin: Pakistan
Style: -Ghazni Red Rugs with Map
Tribe: Turkman
This new war rug is in excellent condition. This rug has some of the best quality wool seen in war rugs. It has been described by the staff at warrug.com as super excellent wool. The wool is Ghazni, which is the best wool available in all of Afghanistan. It is completely spun by hand. This war rug is extremely well-knotted with fabulous use of color giving this rug gorgeous luster rarely seen in new rugs. Its color comes from all natural dyes and the quality of the pile is top notch, as is its wool foundation.
This is really an excellent example of this style of war rug. These rugs are about the Afghan uprising against the Soviet -Puppet Government in 1978-79.
Wool: Very nice
Sheen: Excellent
Handle: Floppy
Selvedge: Red wool
Fringe: long grey wool
Pile: 5mm
Warp: wool
Weft: Wool
Warp Depression:some