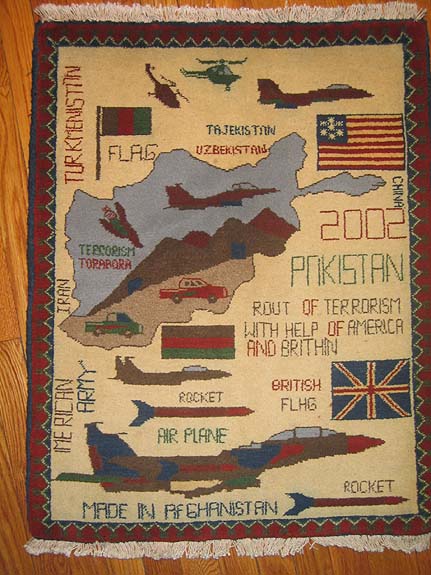 Afghan War Rug with Scattered Flags and Tora Bora Map in light colors saying -Route of Terrorishm -
Exhibited at:

ID# 304
Date: 2002
-:-
Size 26 x 31 inches
(66 X79 cm)
Knots/Inch:
12 h X 12
Origin: Afghanistan
Style: -Scattered Flags Tora Bora Rug,
Other examples of this style
Tribe: Turkman
This new rug is in very good condition. This rug features the unusual text ""AMERICAN ARMY"" as well as ""Rout of terrorism with the help of America and Britian."" The weavers of this war rug lived for years in western Pakistan in refugee camps, and after the fall of the Taliban regime at the US' hands, were able to return to their native homes in northern Afghanistan. They had been weaving the Soviet story war rugs in the same format and technique in Pakistan, and brought this style with them back to Afghanistan where they recreated the pattern with American weapons and war on terrorism motifs.
An unusual feature of this particular rug is the light colors inside the map of Afghanistan where the Tora Bora battle, Operation Anaconda, is depicted.
This particular rug is part of the ""Scattered Flags"" sub style of these small format yellow map rugs. The vast majority of these rugs feature a banner along the top with the American and Afghan flags, as well as sometimes the British Flag. The ""Scattered Flags"" design give the rug a more all over look.
Wool: Very dense if somewhat dry.
Sheen: Underdeveloped
Handle: Very firm
Selvedge: Two cord navy blue overcast.
Fringe: Persian closure, one inch fringe
Pile: 7mm
Warp: White cotton
Weft: Black cotton or wool
Warp Depression:Full warp depression, double knotted