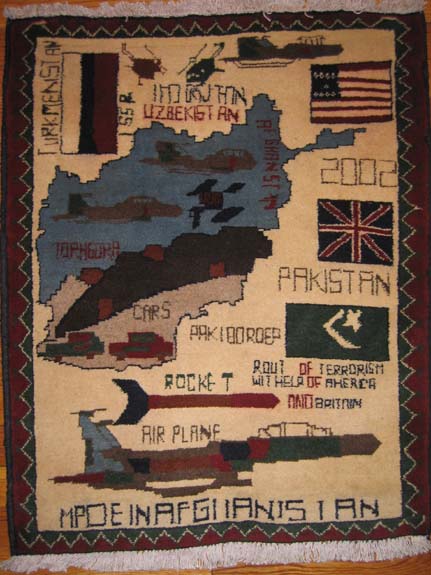 Scattered Flags - Route of Terrorism Afghan War Rug
Exhibited at:

ID# 294
Date: 2002
-:-
Size 24 x 30 inches
(61 X77 cm)
Knots/Inch:
12 h X 14
Origin: Afghanistan
Style: -Scattered Flags Tora Bora Rug,
Other examples of this style
Tribe: Turkman
This new Afghan war rug is in excellent condition. Some of the attractive features of this rug are the blue sky over the Tora Bora caves and the variety of flags. These ""Route of Terrorism"" rugs are very finely knotted and this war rug is no exception.
The only flaw in this rug is a common one, very slight bleeding particularly around the red colors in the yellow field.
Wool: Dense, shiny.
Sheen: Very good.
Handle: Firm,
Selvedge: Two cord wool weft wrap.
Fringe: Persian closure, one inch fringe.
Pile: Thick wool, 8mm
Warp: White cotton
Weft: Black wool.
Warp Depression:Full warp depression