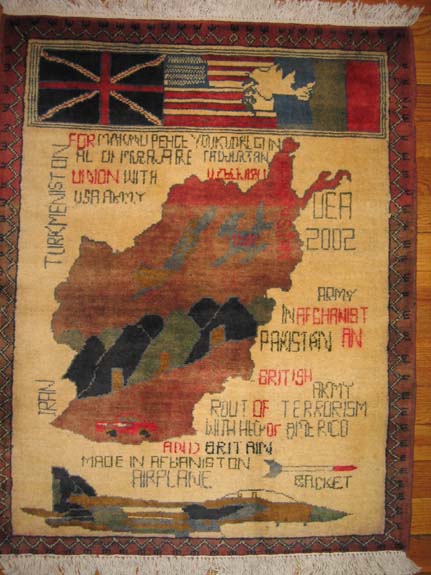 F-16 Afghan War Rug with US / Afghan / UK Flag Banner
Exhibited at:

ID# 292
Date: 2002
-:-
Size 25 x 32 inches
(63 X81 cm)
Knots/Inch:
12 h X 13
Origin: Afghanistan
Style: -British Flag Banner Tora Bora,
Other examples of this style
Tribe: Turkman
This new Afghan war rug is in excellent condition. This rug features a three country flag banner at the top. Most rugs like this feature only the US and Afghan flags, but this one features Britain too.
The text on this Afghan war rug is unusual, it seems to say something about making peace in union with the USA army. The rocket above the F-16 is nicely drawn.
There is some abrash in the red color inside the map of Afghanistan. The top is a brighter red than the lower rust color. Also, there is minor bleeding around the bottom border.
Wool: Very good
Sheen: Very good
Handle: Firm and slightly stiff.
Selvedge: One cord rust colored wool overcast.
Fringe: Persian closure, one inch fringe.
Pile: 4mm wool
Warp: White cotton
Weft: Dark wool.
Warp Depression:Full warp depression