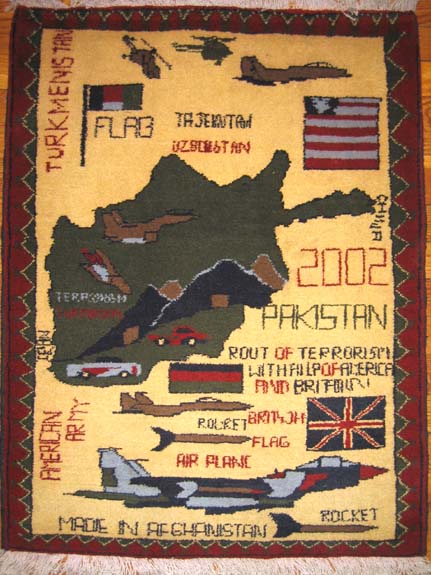 Scattered Flags, Route of Terrorism Tora Bora Style Afghan War Rug
Exhibited at:

ID# 290
Date: 2002
-:-
Size 24 x 33 inches
(61 X84 cm)
Knots/Inch:
11 h X 13
Origin: Afghanistan
Style: -Scattered Flags Tora Bora Rug,
Other examples of this style
Tribe: Turkman
This new Afghan war rug is in excellent condition. This rug is much is much thicker than most of the rugs in this group. The wool singles used to knot the pile are thicker gauge which give the rug a more pixilated look. This rug is extremely dense and the handle is very firm. This is an extremely hard wearing rug.
This rug has a bit of unusual text. On the left side towards the bottom it says ""AMERICAN ARMY"". It is worth noting that the people who wove rugs like this in refugee camps in Pakistan during most of the eighties and nineties returned to their native homes in Afghanistan after the AMERICAN ARMY et al took out the Taliban.
Wool: Very dense, long pile, slightly dry
Sheen: Satisfactory
Handle: Extremely firm.
Selvedge: Four cord black wool
Fringe: Persian closure, fringe. The closure weft is obscured by the splay of the thick pile over the end of the rug.
Pile: 8mm dense thick wool
Warp: White cotton
Weft: Black wool.
Warp Depression:Full Warp Depression