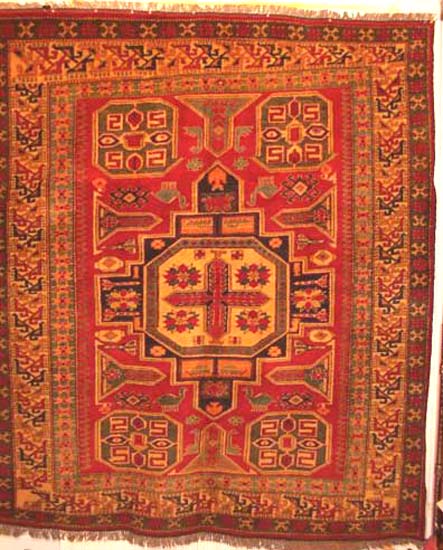 Large Chechen Pakistani War Rug
Exhibited at:

ID# 25
Date: contemporary
Price:$ 0
Size 75 x 85 inches
(190 X216 cm)
Knots/Inch:
10 h X 11
Origin: Pakistan
Style: -Chechen War Rugs
Tribe: Chechen
This rug is somewhat irregular. The border is of uneven thickness. This type of rug is typified by dense knots, depressed warp, and wool foundation
Wool: Strong but not highest quality
Sheen: Fair.
Handle: Strong.
Selvedge: Turkman flat overcast 4 cord.
Fringe: short kilim, overhand knots. Dark grey wool.
Pile: Wool
Warp: Dark grey wool.
Weft: Grey wool.
Warp Depression:Almost totally depressed.