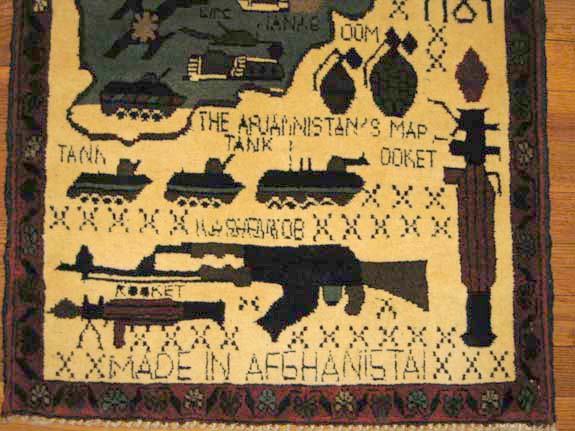 Afghan Victory over Soviets 2
Exhibited at:

ID# 214
Date: 2000
Price:$ 0
Size 23 x 30 inches
(59 X77 cm)
Knots/Inch:
10 h X 11
Origin: Afghanistan / Pakistan
Style: -Soviet Exodus
Tribe: Turkman
This pattern is no longer available in quantity like it was a couple of years ago. These rugs celebrate the Afghan victory over the Soviets (with substantial American assistance.) Rug is probably not woven in 1989, but instead celebrates the 1989 victory and the end of the war (and the beginning of the civil war).
Good drawing. Nice weapons.

Wool: Very good worsted wool
Sheen: Nice
Handle: Strong, firm
Selvedge: 2 cord black wool
Fringe: The minimal fringe on this war rug consists of overhand knots.
Pile: Nice wool
Warp: Cotton
Weft: Black wool
Warp Depression:Full