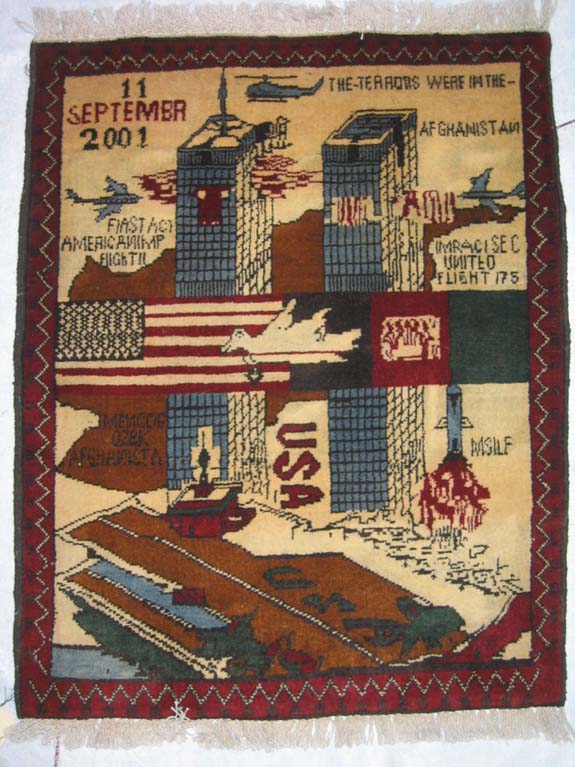 World Trade Center 9/11 War Rug with White Dove 2
Exhibited at:

ID# 190
Date: 2002
-:-
Size 25 x 30 inches
(63 X77 cm)
Knots/Inch:
12 h X 13
Origin: Afghanistan / Pakistan
Style: -World Trade Center Flag Banner War Rugs,
Other examples of this style
Tribe: Turkman
This new war rug is in perfect condition. The wool is soft and fine and the sheen is beautiful. Quite interestingly, the artist was trying to convey a thought in text that is rarely seen. In the map of Afghanistan found in the background, you see in the bottom left some text. The bottom word is clearly meant to be Afghanistan, but the two words located above that are illegible. The staff at warrug.com can not even guess as to the artists intentions, as we have never seen any other words associated with the naming of their country in the World Trade Center rugs. This type of writing is a nod to the older, soviet-era war rugs, where there would often be Cyrillic lettering with no meaning clearly understood.
Wool: The wool in this war rug is soft and fine.
Sheen: The sheen of this war rug is nice and glossy.
Handle: The handle on this war rug is firm and rigid.
Selvedge: The selvedge is of 3 cord brown wool.
Fringe: The fringe on this war rug has no kilim end, Persian closure and 1"" fringe.
Pile: 3mm
Warp: White cotton.
Weft: Grey cotton
Warp Depression:Alternating warps fully depressed