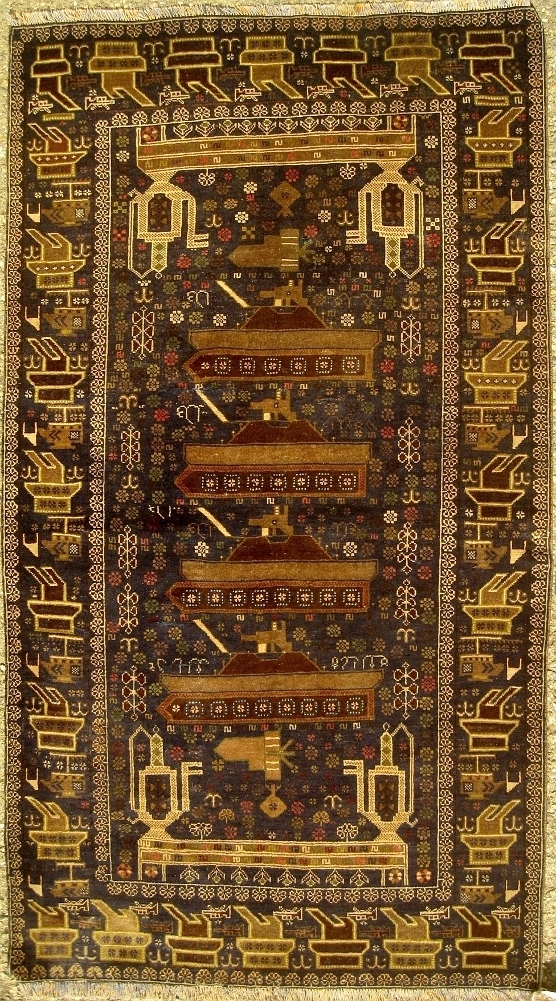 Three Tank War Rug
Exhibited at:

ID# 1514
Date: 1980s
-:-
Size 76 x 54 inches
(193 X137 cm)
Knots/Inch:
9 h X 11
Origin: Afghanistan
Style: -Two Ewer Design Zakini Rugs,
Other examples of this style
Tribe: Baluchi
The wool and knotting of this rug is excellent. The pile is thick and dense, and the wool is very lusterous. It has some wear, and two well done repairs to what must have been cuts (see photos).
One unusual thing about this rug is the border is dark, not golden colored like most.
Wool: Excellent
Sheen: Very good
Handle: Strongest floppy.
Selvedge: Single wool overcast, not the braided goathair one may expect. It is possible this was an aftermarket repair.
Fringe: Example of fringe when the kilim ends are removed.
Inspecting a damaged kilim skirt on a good rug, a dealer friend told me to pull out all the wefts in the kilim so one wouldn't see the damage. This is anathama to me. Keep as much of the rug as possible. This rug shows the dye from the removed wefts on the warp fringe.
Pile: 5mm wool.
Warp: Buff wool, 2S
Weft: The usual grey cotton.
Warp Depression:Very depresses, with only a bit of the lower node showing.