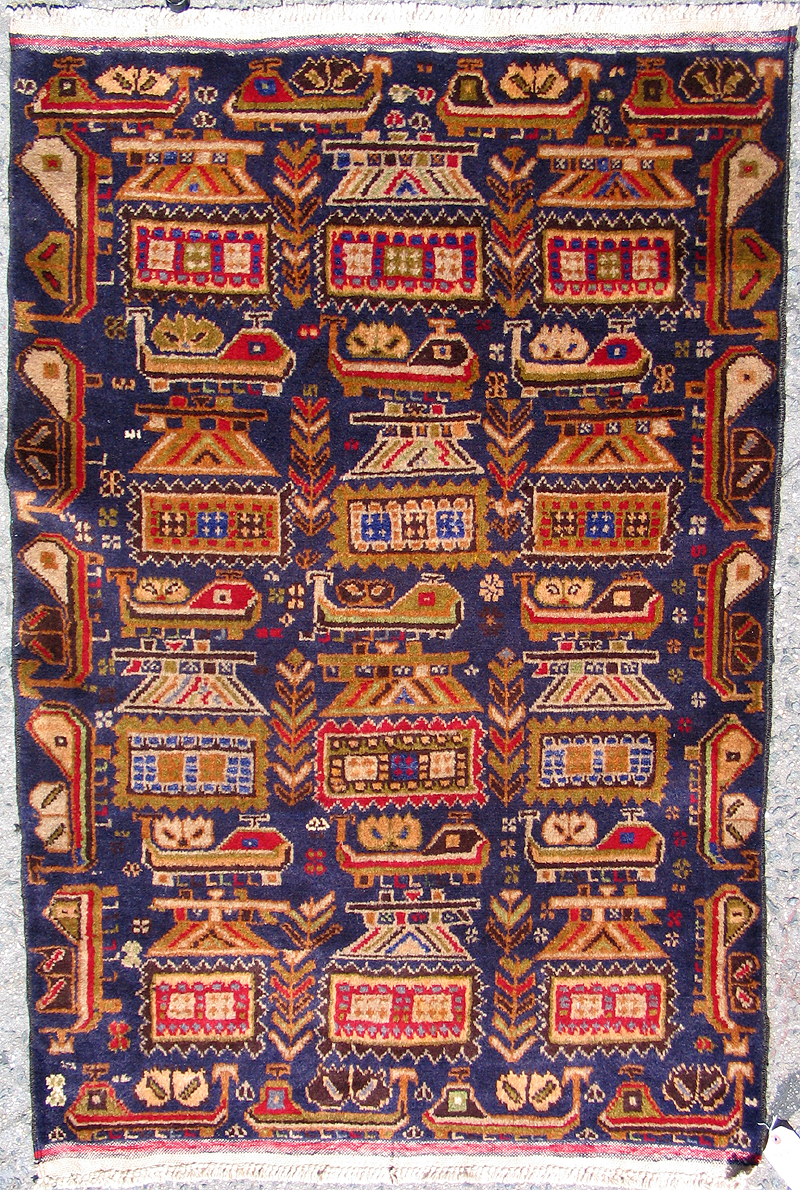 Helicopter Border Version of Tank, Bomber Helicopter Style War Rug
Exhibited at:

This rug appears to be the latest iteration of the Tank, Helicopter, Bomber Style War Rug. The tank and helicopter motifs are reminiscent of Tank, Heli, Bomber style, but more importantly the pile wool, specific shade of blue used in field color, and most indicatively, the warp threads. The design has changed a bit and it is very interesting watching it change.

The overall design of this rug is successfull, particularly for the dispersion of small areas of colors and a variety of motif sizes. The poorly defined border of somewhat inarticulate helicopter is not particularly effective, but it does show will to innovate. One of best design element is the top row of helicopters treads where blue squares are outlined in red. Beautiful.
Wool: good wool which is thick, strong, and dense. Pile is thicker than most Baluchi rugs.
Sheen: Good, smooth luster overall, and brown is particularly shiny.
Handle: More strong than floppy.
Selvedge: Well done, tightly bound brown braided goat hair.
Fringe: The end finishes are nice and in good shape. Top has short fringe, overhankd knots, and tricolor wool weft faced plain weave kilim. Bottom roughly same as top.
Pile: 8mm, unusually thick and dense.
Warp: 2S natural wool
Weft: Black cotton.
Warp Depression:Uneven but mostly full warp depression. Knotting from back appears uneven: wefts wanderm knots sitting on different planes.