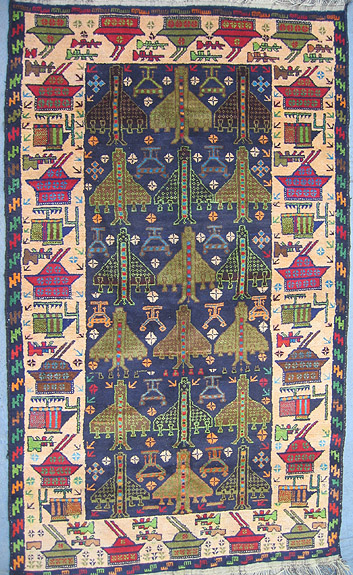 18 Jet Fighter War Rug with Golden Border
Exhibited at:

ID# 1403
Date: 1990s
-:-
Size 51 x 68 inches
(130 X173 cm)
Knots/Inch:
7 h X 9
Origin: Afghanistan
Style: -All Over Fighter Jets War Rugs,
Other examples of this style
Tribe: Baluchi
Best example of this type of rug. Formerly the owners office rug. Shapes of cars is nice. Bright color on light border strong. This rug is a good deal.
Wool: Clumpy handspun somewhat coarse. Best wool on this type of rug.
Sheen: good
Handle: floppy
Selvedge: 1 cord brown and black goal hair
Fringe: 1 inch killim special knots, 3 inches fringe
Pile: 5 millimeters
Warp: light and dark brown cotton
Weft: 2 cord gray
Warp Depression:30 to 45 degrees