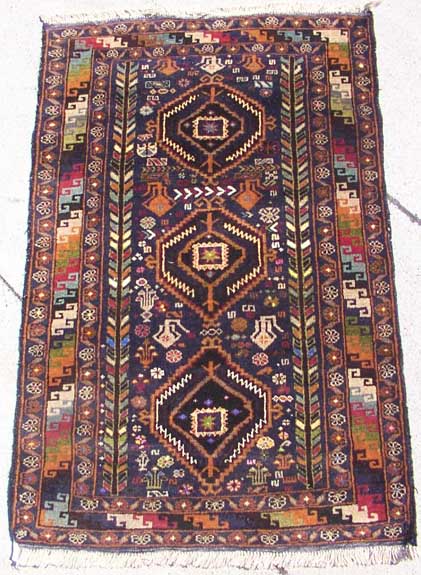 Small 3 Medallion - Grenades Afghanistan War Rug
Exhibited at:

ID# 12
Date: Contemporary (1996)
-:-
Size 35 x 54 inches
(89 X137 cm)
Knots/Inch:
9 h X 12
Origin: Afghanistan / Pakistan
Style: -Triple Six Side Medallions,
Other examples of this style
Tribe: Baluchi
Like new. Lays flat. Square. Dense medium length pile. Good example of traditional Balouch rug with war accent. Subtle use of war imagery. Tree of life imagery on sides with Balouch imagery of flowers, stars and plants.
Wool: Soft, dense.
Sheen: medium.
Handle: Firm, strong.
Selvedge: Goat hair, overcast.
Fringe: One inch kilim, off the loom knots, 2 inch fringe.
Pile: Wool
Warp: Grey wool
Weft: Grey cotton
Warp Depression:Almost totally depressed. Occasional second node.