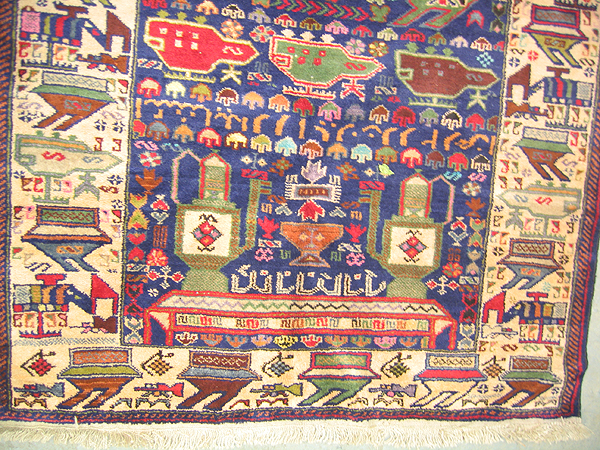 Tow Ewer with Two Rows Each of Three Helicopters and Two Tanks
Exhibited at:

ID# 1060
Date: Taliban era
-:-
Size 45 x 74 inches
(114 X188 cm)
Knots/Inch:
7 h X 10
Origin: Afghanistan
Style: -Golden Border War Rugs (without ewers),
Other examples of this style
Tribe: Zakini
Excellent. Artistic use of fluorescent colors. Borders: 1 main with one outside guard stripe. Lots of nice greens and grays. Around light helicopter is natural fields with jade outline over grey outline. Different color, also natural. Thirteen separate colors: beautiful.
Wool: Very fatty. Appears hand spun
Sheen: Good
Handle: Firm
Selvedge: Tight two cord braided goat hair
Fringe: Half inch kilim, overhand knots, two inch fringe.
Pile: 6mm
Warp: Very lustrous natural colored wool. Better than BCT warp
Weft: Grey cotton
Warp Depression:Sixty degree warp depression