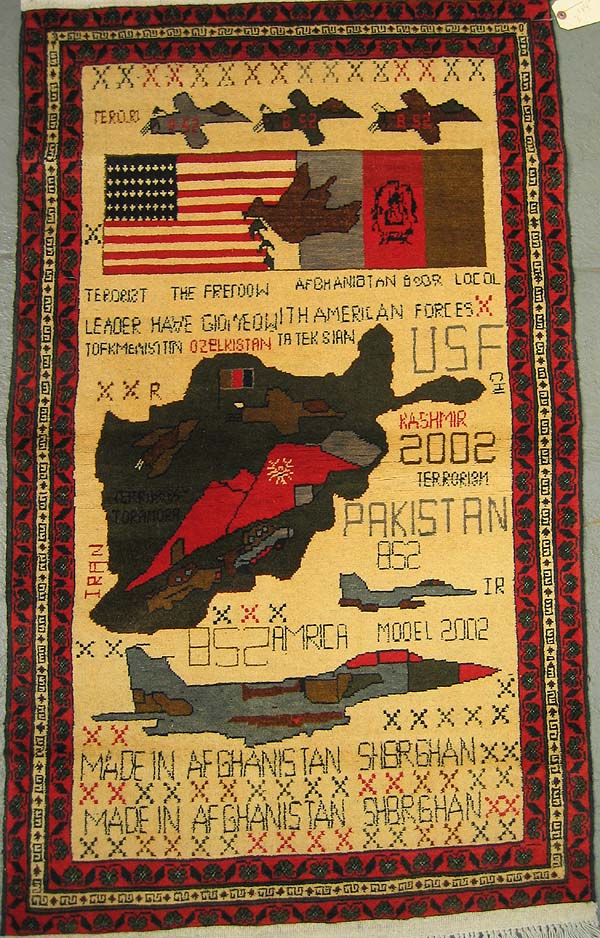 Large Tora Bora War Rug
Exhibited at:

ID# 1020
Date: 2002
-
Size 29 x 48 inches
(74 X122 cm)
Knots/Inch:
12 h X 10
Origin: Afghanistan
Style:Tora Bora Sherberghan
Tribe: Turkman
Perfect condition new war rug. Well knotted, good wool. In listing of countries around Afghanistan it lists Kashmir in red, which we have not seen before. Woven in Sherberghan by former Afghan refugees. It has the ""To create freedom in Afghanistan your local leaders have come with American forces"". Good rug, very rare size.
Wool: Very good.
Sheen: Good.
Handle: Firm
Selvedge: Three cord flat weft wrapped
Fringe: One inch kilim, overhand knots, one inch fringe on both top and bottom.
Pile: 5mm
Warp: White cotton
Weft: Black wool.
Warp Depression:Full warp depression