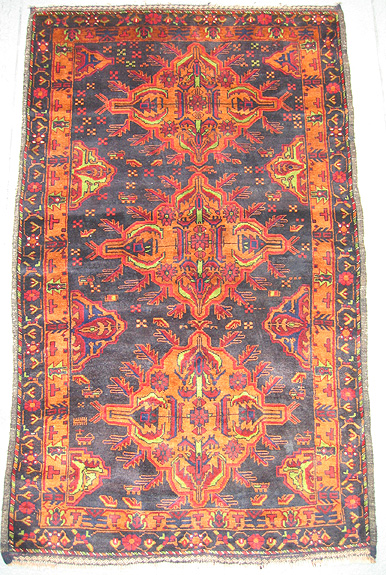 Unusual Three Medallion War Rug with Little Helicopters
Exhibited at:

ID# 1011
Date: 80's
-
Size 42 x 72 inches
(107 X183 cm)
Knots/Inch:
11 h X 11
Origin: Afghanistan
Style:Anomaly War Rugs
Tribe: Baluchi
Very good, especially for age. Full pile, little bit of sarnach, damage on kilim ends, little wear on selvedge in one spot. Basically very good.
Wool: Super excellent, best quality
Sheen: Excellent
Handle: Strong and soft
Selvedge: Unusual! Four cord flat figure eight wrapped overcast
Fringe: One inch weft substitution. Bottom has short curly fringe which looks like kilim has been removed, top short half inch fringe, Persian closure.
Pile: 4mm
Warp: Very nice natural wool, looks hand spun
Weft: Grey cotton.
Warp Depression:Seventy degrees, almost full