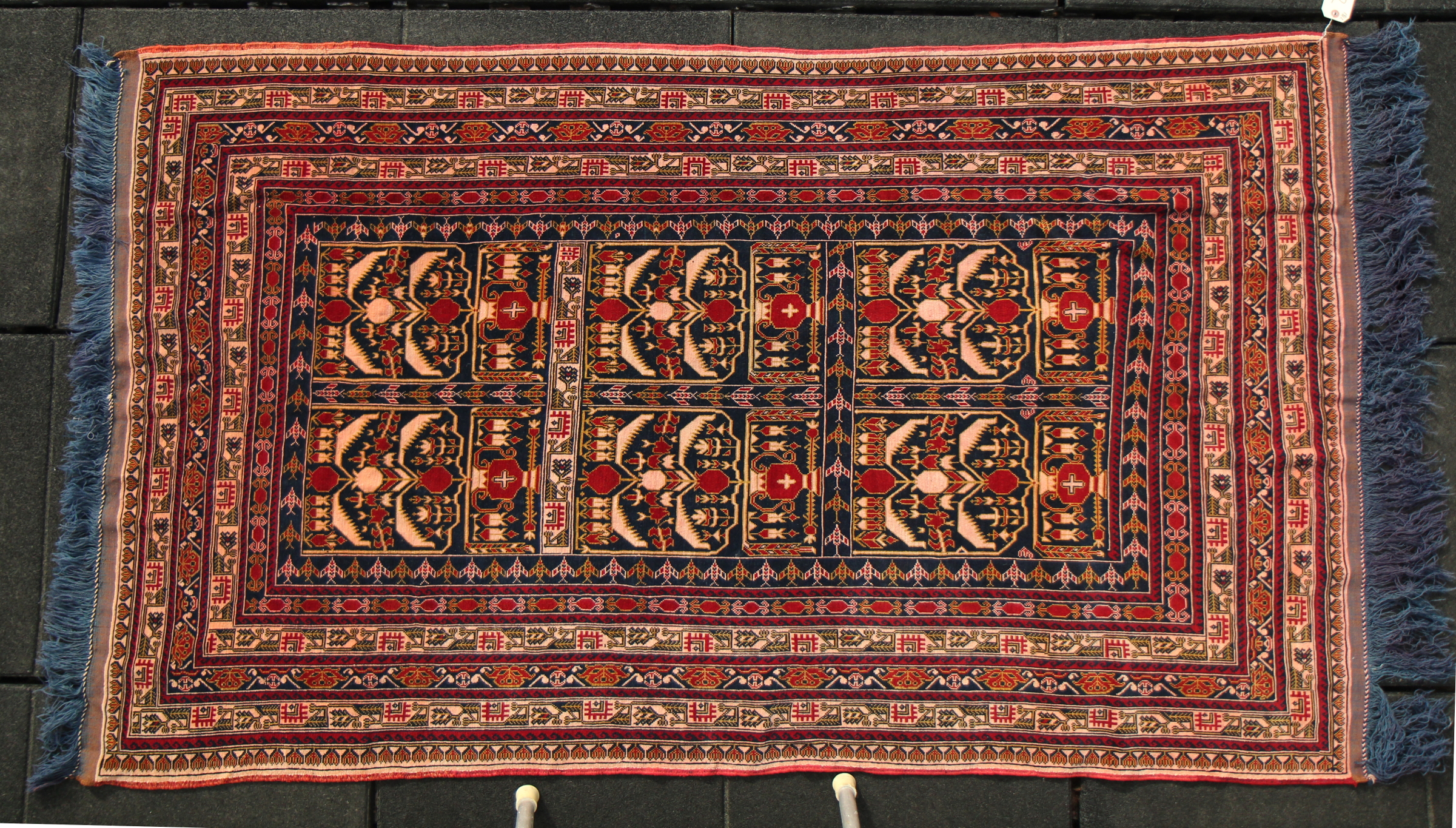 Poppy Design Ali Kwaja with Airplane Guard Stripes
Price on request
Exhibited at:

Ali Kwaja rugs are the best, and this is example is one of the best Ali Kwaja rugs. Ali Kwaja means roughly, gentleman. These rugs are extremely finely knotted: this rug has more than 160 knots per inch. The pile is very short, and the handle is very floppy. The wool is soft with a waxy handle and sheen.

Extensive research suggests Ali Kwaja rugs are Beshir Turkmen. Supposedly, they moved across the border into Afghanistan after the Bolshevik revolution consumed the USSR.

In the middle of the rug there are a couple of pea size areas where the pile has been damaged. The structure is intact, and damage is not readily noticeable.

The field may look black, but it is actually a very dark and beautiful indigo blue

Possibly, this rug was intended as a prayer rug, for notice the top two panels are separated from the lower panels by a white border stripe. The lower two panels are separated by a airplane border.

Pomegranites are a classic image in Afghan rugs. In pre-Islamic Persia and Afghanistan, pomegranate represented the soul to Zoroastrians. The Quran says pomegranates will be found in Paradise.
Wool: Best quality very fine, spun into small threads to facilitate very fine knotting.
Sheen: Excellent
Handle: Very floppy. Much floppier than Baluchi rugs. This rug, like other Ali Kwaja's, is very thin.
Selvedge: Integrated orangish red, two flat bands. Color changes to brown when selvedge reaches kilim ends.
Fringe: Pile ends with a couple of inches of brown plain weave which is closed by two strands of weft brocad, then long dark grey wool fringe which is fine and curly.
Pile: Very short and very fine wool
Warp: Beautiful dark grey wool
Weft: Two shoots black
Warp Depression: Knots are mostly depressed.