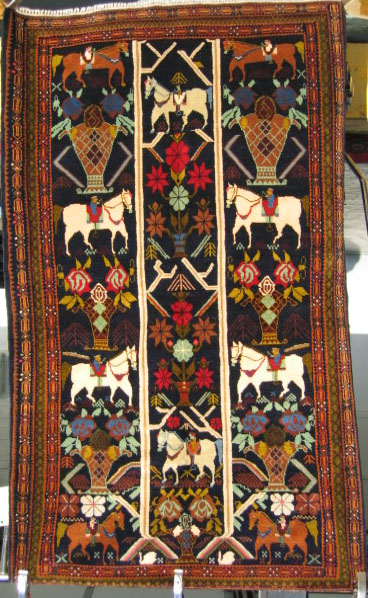 Mario Brothers Horseman Rug Also rug ID # 57
Exhibited at:
Miami University Art Museum - 2007-09-07
Gund Gallery at Kenyon College - 2017-05-26

ID# 137
Date: 1991-1995
Price:$ 1
Size 41 x 71 inches
(104 X180 cm)
Knots/Inch:
10 h X 11
Origin: Afghanistan
Style: -Horsemen War Rugs,
Other examples of this style
Tribe: Zakini
rug #57


This is a great rug. The guys on horseback appear to have riding crops and not Kalashnikovs. The horsemen must be influence by Nintendo's ""Super Mario Brothers"". The drawings are too clear to be coincidence. A rug with a sense of humor, gotta love it.
This rug has a nice pattern, good drawing and attractive colors. The busy border contrasts nicely with the bolder field. The white vertical stripes ad graphic punch. The horses are beautifully drawn and show very powerful animals.
The blue field Is particularly deep and rich, and provides an excellent contrast to the lighter and brighter colors used in the motifs.
The staff at warrug.com has fought furiously to have this rug kept in the office.
The pile of this rug is longer and softer than most Herati rugs.
Wool: New, soft, underdeveloped and curly.
Sheen: Shiny and very nice for new rug.
Handle: Soft and flexible
Selvedge: Dark blue wool braided overcast.
Fringe: Short kilim skirt with weft substitution flower decoration (very nice!), overhand knots and short fringe.
Pile: 8mm wool.
Warp: Very nice natural wool that has a beautiful fringe.
Weft: Blue cotton.
Warp Depression:Minimal to 45 degrees