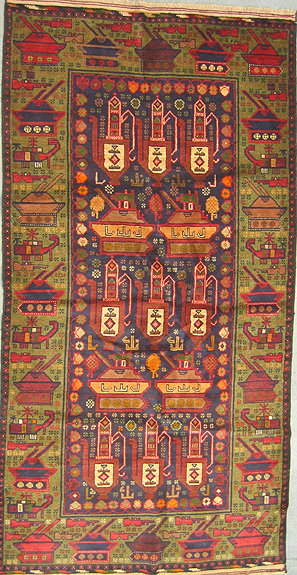 High Quality Green Border War Rug
$3,499
Exhibited at:
29 Items - 0000-00-00

ID# 1066
Date: 1990s
Price:$ 2250
Size 42 x 80 inches
(107 X203 cm)
Knots/Inch:
8 h X 9
Origin: Afghanistan
Style: -Golden Border War Rugs (without ewers),
Other examples of this style
Tribe: Zakini
This rug is remarkable for its fine quality. This rug exemplifies the best of weaving from western Afghanistan: soft, lustrous wool, lovely sheen, dark colors.
Strong design. Note the superb luster of this rugs wool. Design alternates between rows of two tanks with text inside and three large ewers. Throughout the negative space sit grenades and small flowers, and the whole field is surrounded by an open guard stripe of linked flowers and leaves.
The border consists of tanks, rifles, and helicopters on a green background. The mustard yellow and bright orange accents pop off of the olive green and navy blues.
The rug was acquired by Warrug in 2003, and was first offered for sale in 2016.
Wool: Excellent. Soft.
Sheen: Very good.
Handle: Floppy
Selvedge: 2 cord black goal hair
Fringe: 1 inch killim, 2 cords green and red on one side and 4 cords red and blue on other, no knots and 1 inches fringe
Pile: 4mm
Warp: Brown cotton
Weft: 2 black cords
Warp Depression:30 to 45 degrees