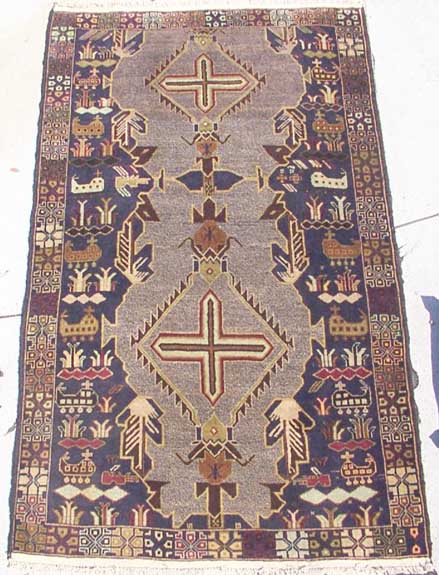 Speckled Blue and Tan Afghan War Rug
Exhibited at:

ID# 55
Date: Contemporary
Price:$ 0
Size 47 x 78 inches
(119 X199 cm)
Knots/Inch:
10 h X 9
Origin: Afghanistan
Style: -Checkered Areas (two colored threads),
Other examples of this style
Tribe: Baluchi
This rug features an unusual speckled blue and tan center. The X forms in the middle are vividly colored. The X uses 6 colors gradating between sage green and burnt sienna. The use of understated war motifs is very nice, as is the Herati border. The overall color scheme is good.
Wool: Dense, Strong, Medium fine.
Sheen: Medium
Handle: Strong
Selvedge: Goat hair overcast, braided
Fringe: 2 inch kilim.
Pile: Wool
Warp: Dark grey cotton
Weft: Natural wool
Warp Depression:80 degree depression