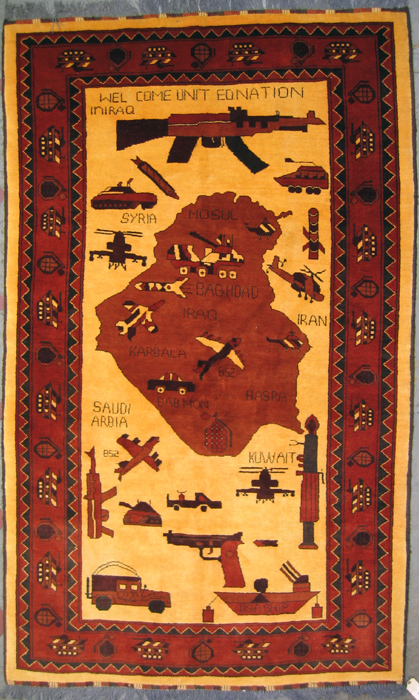 Large Iraq War Rug
Exhibited at:

ID# 1359
Date: 2003
Price:$ 2500
Size 60 x 101 inches
(152 X257 cm)
Knots/Inch:
8 h X 8
Origin: Afghanistan / Pakistan
Style: -Iraq Rug - Uzbeki,
Other examples of this style
Tribe: Uzbek
Large size war rug. 5x8. Iraq map showing American weapons and neighboring countries. Border from earlier designs. The attack helicopters and humvee are remarkably well drawn in these rugs. These are the first Afghan war rugs not representing Afghanistan. The vocabulary is constant but the subject has changed. These rugs demonstrate the degree to which war rugs have become an established vernacular in Afghan art.
Wool: Very fine
Sheen: Good, lustrous
Handle: Strong
Selvedge: Flat, multi-cord weft wrapped with brown wool
Fringe: Uzbek colors and technique.
Pile: 7 mm
Warp: Grey wool
Weft: Brown wool
Warp Depression:90 degrees